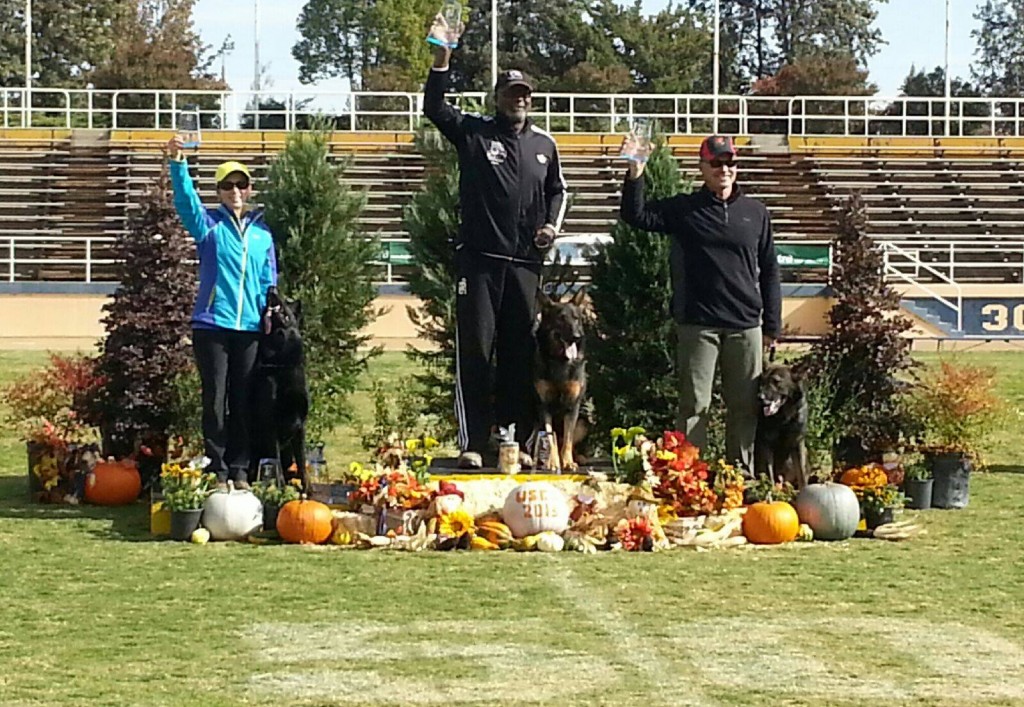 Congratulations to all the competitors in the 2013 USCA GSD IPO3 National Championship, held this past weekend at Merced Junior College in Merced, CA. Way Out West Schutzhund Club hosted the event, and did a spectacular job with all aspects of this year's National Championship.
There were many excellent and awe-inspiring performances this year, creating a very close competition for the podium. Wallace Payne and Greg vom Maulachtal took first place, with a score of 296 (100 in tracking, 98 in obedience, and 98 in protection ). Debbie Zappia and Iron von den Wolfen took second, with a score of 295 (97 in tracking, 99 in obedience , 99 in protection), and Mike Diehl with Irmus Galan Nalag took third, also with a score of 295 (100 in tracking, 97 in obedience, 98 in protection). Full results can be found on the USCA Nationals Website, and videos of some of the top obedience and protection performances can be found here.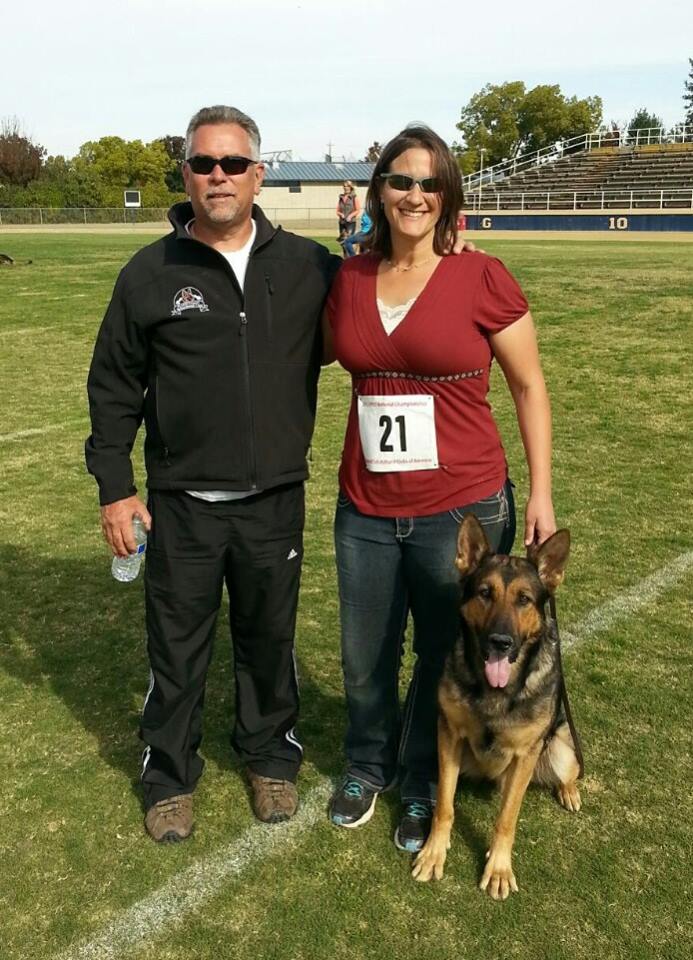 This year's National Championship also featured many first-time handlers competing at their first Nationals, including one of our very own club members and her dog. Congratulations to Carissa and her dog Axel (Ferox v Tehillah) for achieving their second IPO3 title at their first National Championship. John Riboni has worked closely with Carissa and Axel for the past several years, and we are very proud to see them competing at this National event. John Riboni is pictured here with Carissa and Axel at the closing ceremonies of the 2013 USCA National Championship.
Congratulations, also, to North County Schutzhund Club member Teresa Cowart and her dog Arex vom Holtz Tal; Teresa and Arex also competed at the National Championship this year, earning Arex's IPO3 title at his first big National event. Teresa has been training with John for some time now, first with her previous dog Ecco vom Fuchsgraben, and now with her current dogs Arex vom Holtz Tal and Chaos vom Haus Courtland.
Congratulations again to all the competitors for their hard work and dedication, and thank you to Way Out West for putting on such a wonderful event!
Social Share