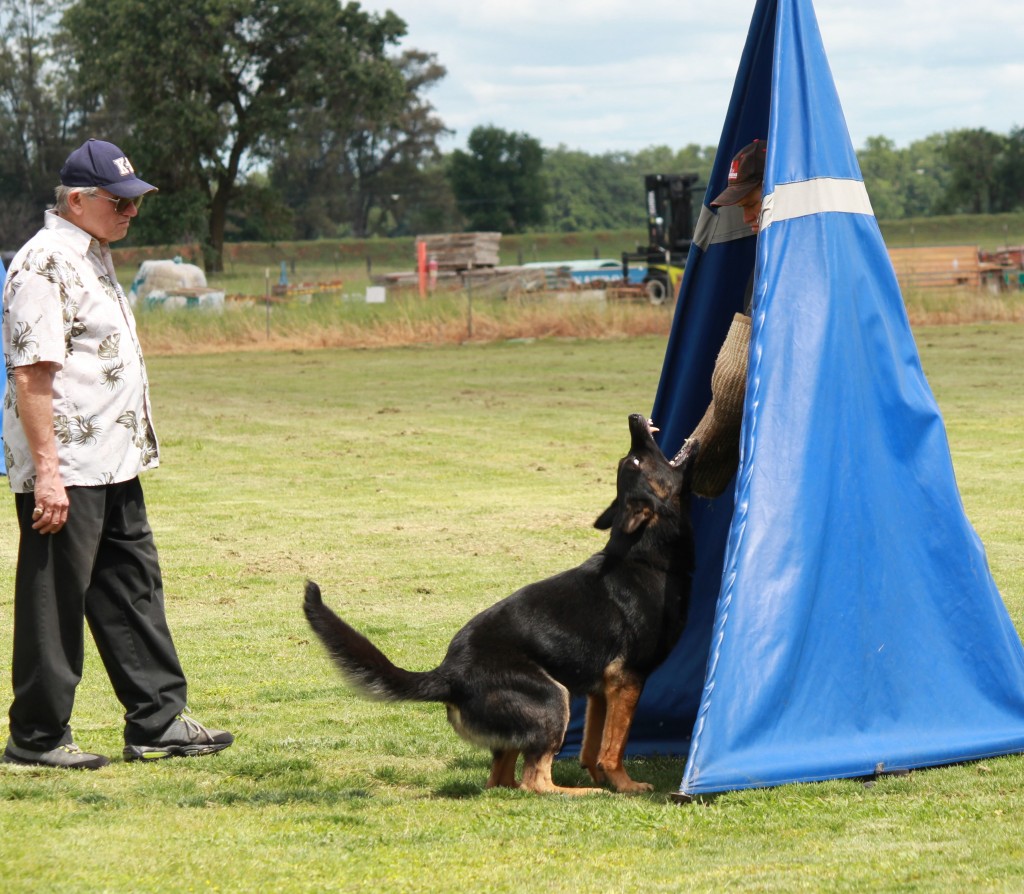 With the majority of handlers in IPO/Schutzhund sport trialing at the club level, a club trial becomes a momentous occasion! It is a place to test and prove the training of the dog and of the handler, to display the partnership between the dog and handler, and to show off the genetic qualities of the dog under the watchful eye of a judge. It is also a stepping stone to trials at the higher levels, such as a Regional Championship. Most of all, trials are a time to enjoy your dog and have fun! 
Protection Dog Trials
While it is hard to keep "fun" in mind while fighting trial nerves–especially when the dog throws in a surprise "He's never done that before!" moment–the overall atmosphere at a trial should be one of good sportsmanship and camaraderie. And this was the overall feeling at the Placer County Schutzhund Club spring trial on April 26th and 27th. Club members had been training long and hard for this trial, working to prepare for the next title they would earn with their dogs. This was the time to show off their dedication, work, and handling skills.
The trial started off with four successful BH routines, three of which were from new handlers. For a new handler to the sport, the BH is the first mountain to climb; it looms large on the horizon as the first introduction to competition, and it can indeed be a nerve-wracking experience. But fellow competitors, club members, guests, and spectators alike cheered on the new handlers, offering support and encouragement as they stepped out there on the trial field with their dog for the first time. Congratulations to Annette and Jema, Hiroe and Pyra, Jackie and Braux, and Cindy and Holden for earning their BHs!
After the BHs came the obedience routines for the IPO dogs. All the IPO dogs at all levels successfully passed their obedience phase, with scores ranging from 72 all the way up to 96! It was clear that even among the seasoned IPO competitors, trial nerves took their toll on the field, with several "That was new!" moments for the handlers and their dogs. This phase often proves one of the more difficult  phases from the handling perspective, as obedience requires so much interaction with and direction from the handler. It is easy for a handler to "cost" his dog points–and vice-versa!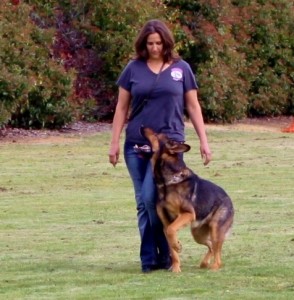 Protection Dogs and Their Partners
More than any other phase, obedience displays the true teamwork between the dog and handler. Each partner in the team must be "on their game" for top points! Several beautiful obedience routines were presented at the PCSC club trial that demonstrated an overall picture of harmony and teamwork, but it was Carissa and Axel who took home the High Obedience trophy with a 96-point, V-rated (Excellent) IPO3 obedience routine. Peter with Stryke and Chris with Ace also performed very beautifully in their IPO2 obedience routines, with their dogs showing a lot of spirit and drive in the work.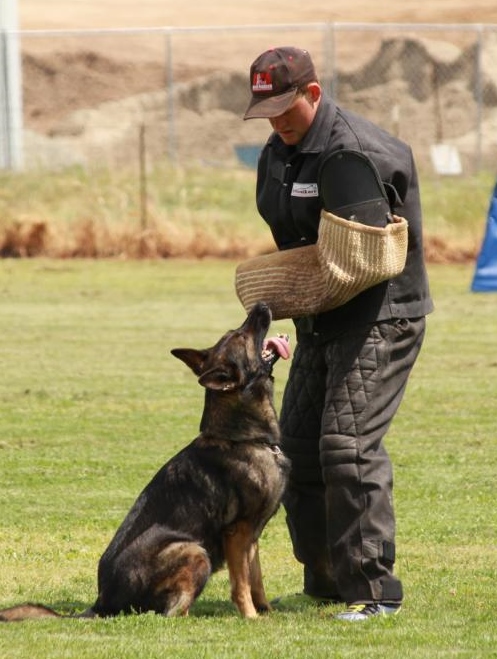 A Proud Moment for the Protection Dog
Protection–the most exciting phase–followed the obedience work. Secondary obedience, power, fight, and grip: Judge Ernest Hintz was looking for it all. Several strong, notable performances were seen from the competitors: Gerri and Whiskey's 94-point IPO2 routine, Peter and Stryke's 90-point IPO2 performance, a very powerful performance from Chris and Ace, who secured 95 points in their IPO2 and treated the crowd to a spectacular long bite. Helper Weston Kester performed an excellent catch on this "Malinois Missile", and worked all the dogs with great form and skill. High Protection, however, went to Carissa and Axel, who turned out another 96-point V-rated IPO3 routine.
Sunday morning brought some chilly, slightly stormy weather, forcing competitors to bundle up as they headed out to the tracking fields. The slight rain that fell overnight made the tracking conditions excellent for the dogs, keeping the dirt soft and pliable, and increasing its capacity to hold scent. The strong headwind, however, made tracking more challenging for the IPO1 and TR1 dogs, and it was only Ruth and Quest and David with Devo who successfully completed their tracks, with Ruth and Quest earning their TR1. The more seasoned IPO2 and IPO3 dogs fared better, running some excellent tracks laid by our veteran tracklayers John Riboni and Wendy Schmitt. Ginna and Donna earned 95 points on their track, as did Chris and Ace, with both dogs working very methodically and beautifully on their track. Gerri and Whiskey ran an excellent track, earning 96 points and a "V" rating. Carissa and Axel also earned a "V" rating with a 99-point (98.5) IPO3 track. But it was Lynn and Titleist who took home High Tracking with a true 99-point track that was beautiful to behold.

The Results
Competing is hard work, and the nature of IPO sport makes trial day all the more challenging, as the dog and handler must successfully pass all three phases in order to earn their title on that day. Congratulations to all the competitors for their hard work, dedication, and sportsmanship! Congratulations to all our PCSC members and our guests for showing their dogs, and congratulations to all those who successfully earned their titles. We wish the best of luck to all our competitors as they progress in their training and continue trialing. Congratulations to Chris and Ace, our High IPO2! Congratulations to Lynn and Titleist, who took home High Tracking. Congratulations to Carissa and Axel, who took home High IPO3, High Obedience, High Protection, and High in Trial with a 291 "V", also earning a qualifying score for the 2014 USCA GSD IPO3 National Championship! German Shepherd Watchdogs is very proud of the PCSC dog/handler teams, all of whom worked hard and demonstrated the high caliber of training at Placer County Schutzhund Club. Great job!
Social Share