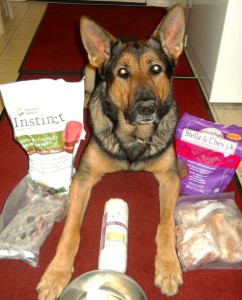 In our last blog we provided a few guidelines for designing a raw diet for your German Shepherd Dog. This week, we have several different examples of raw diets fed by German Shepherd Watchdogs and by several of our local Schutzhund club members. Each diet is slightly different, demonstrating the flexibility of feeding a raw diet based on each dog's individual needs and each person's lifestyle and budget. Despite all the variations, in each "menu" raw meaty bones and raw meat together form the bulk of the diet.
RAW DIET "MENUS":

"Half and Half"
From Wendy (Schutzhund club member): "Because I travel frequently, it is more difficult for me to feed all raw. So I feed half raw and half commercial food. In the mornings my dogs receive Innova dry food, 1 whole raw egg, a tablespoon of olive oil, and a scoop of Showstopper. In the evenings I feed raw chicken leg quarters, backs, or thighs. I will also feed raw beef, such as a chuck roast, when the price is good."
Simple Raw
Ron and John: "The base of our raw diet here at German Shepherd Watchdogs consists of chicken leg quarters and dehydrated vegetables (Honest Kitchen "Preference"). We also will feed yogurt and olive oil, and occasionally Stella and Chewy's raw food. We recommend Stella and Chewy's raw food to clients unfamiliar with feeding raw diets to their dogs."
More Complex Raw:
From Danny (Schutzhund club member): "I strive to take great care of my dogs.  As with humans, diet plays a key role in health and vitality.  I feed a raw meat and bones diet because it is appropriate for canines. I feed the following:
chicken leg quarters
ground beef
eggs
beef liver
fish (canned sardines, mackerel, salmon, tuna–all packed in water)
"I also make a veggie 'glop' consisting of kale, broccoli, carrots, pumpkin, and sweet potato, mixed with apple cider vinegar and blended in a food processor. I supplement with olive oil, salmon oil, Ester-C (calcium ascorbate), and glucosamine/chondroitin/MSM. Supplements, veggies, and any special meats are fed in the morning meal (ground), and raw meaty bones are fed at night. I enjoy feeding my dogs and preparing their meals.  Plus, I am in control of the nutritional value of my dog's intake and I save money!  My cost is approximately $0.80/lb to feed my two German Shepherd Dogs."
Mostly Raw Meaty Bones, Meat, and Organs
Carissa (Schutzhund club member): "I feed a modified 'prey model' raw diet that focuses on feeding a variety of different meat sources; variety is important in any diet, including that of our dogs and cats.  Over the course of a week or more, I rotate through the following:
half-chickens
bone-in chicken breasts
various cuts of muscle meat (beef, pork, lamb, turkey)
eggs
occasional fish (frozen raw sardines, canned salmon, mackerel, sardines packed in water)
green tripe
liver (beef/chicken/turkey)
heart (beef/chicken/turkey)
"I add more variety to the diet by rotating in Small Batch raw meaty bone and organ meat blends, Nature's Variety Instinct raw food, or Stella and Chewy's raw food. I also use these when I travel, and it makes feeding raw on the road very easy. I supplement with Natural Eggshell Membrane (joint protection) and fish oil.
"It sounds more complicated than it really is! For example,  a sample week of dinners would be:  (1) half-chicken with organ meats, (2) half-chicken, (3) Small Batch Lamb blend, (4) bone-in chicken breast with green tripe and some turkey meat, (5) half-chicken, (6) half-chicken with organ meat, (7) Nature's Variety Instinct Beef blend. Supplements are given in the morning with a small breakfast of "whatever": fish and raw eggs, green tripe, left-over raw meat or meat blends, etc. It's basically just raw meaty bones, raw meat, and organs.
"However, build up the variety SLOWLY over time, so that your dog's system has a chance to adjust! The nice thing about feeding raw with good variety is that I can travel anywhere and not have to worry about running out of food, or switching to a food that might cause digestive upset. Because my dog eats so many various protein sources in his raw diet, I can pick up meat at any supermarket no matter where I am, and have food to feed him."
Feeding a raw diet may seem daunting at first, and it will require some investigation and some adjustment. But once you become more familiar with feeding raw, you will wonder why it seemed such a challenge at first!  Diet is the cornerstone of health, and feeding an appropriate raw diet will provide your dog with an excellent foundation.
Happy feeding,
CK
Social Share