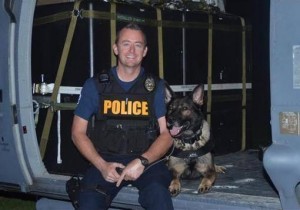 On January 15, 2013, the world lost a great man in the line of duty. In the year that has followed this tragic event, the legacy of Kevin Tonn — his character, devotion, passion, sacrifice, friendship, and service — has become widespread throughout the Central Valley and across the nation. We would like to take this time to honor the memory of Officer Kevin Tonn, whose sacrifice will never be forgotten.
From "Remembering K9 Officer Kevin Tonn", posted January 16, 2013:
We are deeply saddened by the loss of Galt PD K9 Officer Kevin Tonn. Officer Tonn was shot and killed in the line of duty on Tuesday, January 15th, after responding to a burglary call.

Officer Tonn spending a moment with K9 Yaro (Photo: Julie Baldwin)

Kevin Tonn was a dedicated K9 handler. He pursued his work with passion, purpose, and pride, and enjoyed what he did with his partner Yaro, a dual-trained (narcotics/patrol) K9.  Yaro, a four-year-old German Shepherd Dog, was bred and trained in Schutzhund in Europe before being imported to the U.S. and paired with Officer Tonn in 2011.  Officer Tonn and Yaro shared a special bond and relationship that was very evident to anyone who watched them train, work, or spend time together off-duty.

Officer Tonn continued to serve his community even while off-duty. He spent countless hours volunteering with the Foothills K9 Association, participating in demonstrations with Yaro or simply lending a helping hand at events.

Officer Tonn working with K9 Yaro at a public demonstration.

His great sense of humor and obvious joy for his work and his dog were infectious, always bringing a feel of camaraderie and lightheartedness to those around him. He spoke patiently with both adults and children alike as they asked numerous questions about  K9 Yaro, with a current of deep appreciation and love for Yaro underlying his words. When he spoke of his work and his K9 partner, his joy and delight were very evident.

Officer Tonn worked tirelessly to make this world a safer place for all of us. His presence will be greatly missed, but not forgotten. Our thoughts and prayers are with his family, friends, and colleagues.
Officer Kevin Tonn's life demonstrated daily the beauty of a life well-lived with passion, purpose, and principle. We will never forget.
Social Share