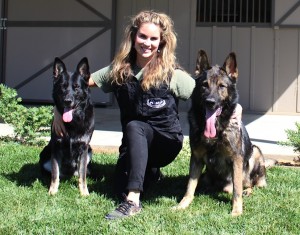 We are exceptionally pleased to welcome the newest addition to our staff: John Riboni's daughter, Lauren Riboni. Lauren joins us as our new trainer at GSW, specializing in pet and obedience training both in-home and on-site at our facility.
About Lauren
Lauren is a veteran handler of working dogs, following in her dad's footsteps since childhood. She has spent her entire life around dogs, and has helped with nearly every part of our operation, from basic care for our working dogs to training, home placement, and even breeding, whelping, and puppy-raising. From the time she could walk, Lauren often spent more time in the whelping box with the puppies than the dam of the litter!
Lauren has inherited her dad's excellent instincts, and she demonstrates a very natural feel for and read of dogs. Additionally, communication with dogs and their handlers comes easily; Lauren connects very well with both the dog and the handler, with a natural sense for how to best approach the training for each particular team. It quickly becomes evident that dogs and people alike adore Lauren and respond positively to her one-on-one instruction.
Lauren has been certified as a dog trainer through Dogworx Academy in Austin, Texas, where she apprenticed with the world-renown team of Rob Dunn and Jessy Gabriel. Both Rob and Jessy are highly accomplished trainers who themselves have trained, handled, and competed with their dogs at national and international events. During her time at Dogworx, Lauren performed not only pet dog training and evaluations, but Noseworks, narcotics detection, basic Schutzhund, and service dog training.
Training Services
We are pleased to offer a variety of training services utilizing Lauren as our primary trainer, including private lessons, board-and-train, puppy training and socialization, advanced obedience, and pet training for all breeds of dogs. We customize the training program to your dog and to your goals for your companion, and focus on bringing out the spirit and personality of your dog while helping them become well-mannered and obedient. Rather than insisting on one particular training philosophy, we adapt our training methods to each particular dog, working with their personality, temperament, training issues, and motivations.
For more information on our training services, please contact us.
Social Share