It is one week in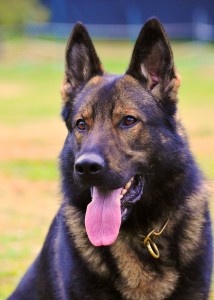 to the new year, and many of us have formed New Year's Resolutions. Whether your resolution is to eat healthier, get more exercise, or spend more time with family, we encourage you to think of your dog, too, when making new resolutions!
Want to get more exercise, or get more fit in 2014? Resolve to take your dog for daily walks, or to start a new activity together that will get you both up and moving. Jogging, hiking, biking, swimming–all of these activities can be enjoyed with a healthy adult dog! Make sure to get your pet checked out by your vet first before starting an exercise program. If you have a young puppy, wait until he is at least a year old before taking him jogging or biking or on long hikes with you. Why? For most medium and large-sized dogs, growth plates of their long bones do not close until about a year of age; until these growth plates fully fuse and close, repetitive concussive forces can damage the developing bones and joints in the young animal.
Want to learn something new or take up a new hobby? Then look into starting a new activity with your dog. Fun sports abound, allowing you to try something new that interests you and your dog. You can select the sport best suited to your dog's natural inclinations: tracking, nosework, flyball, agility, obedience competition, rally obedience, dock diving, weight pull, IPO/Schutzhund, herding, and more! A good starting point is to research the sports that sound most interesting to you, and to then start looking for any local breed clubs or training clubs in your area that participate in any of these venues.
Already training in a sport with your dog? Then pick a date for a trial, and prepare yourself and your dog for the challenge! While the trial experience can be a bit nerve-wracking, it can also be incredibly rewarding for both you and your canine partner. You will also learn some valuable lessons about yourself and your dog in the process, and will gain experiential knowledge to use the next time you trial or compete. Successfully completing a trial brings a huge sense of accomplishment; you did it, together!
Want to improve your eating habits and diet? Think about improving your dog's eating habits as well! This could mean improving the overall health of their diet, whether it involves switching to a more healthful food or to a home-prepared raw diet, or nixing some of the many treats they get during the week. Swap those grain-, salt-, and sugar-laden doggie junk food treats for healthier meat-based treats (look for those made in the USA!), and don't forget to include those treats in your dog's daily rations! If you have a slightly pudgy canine, cut down on their portion size, and switch over to a grain-free or raw food.
We hope 2014 brings many wonderful adventures for you to share with your beloved canine companion. Best of luck to you and your dog as you embark upon your new journeys for the new year!
Social Share