Fall seems to have finally arrived in Northern California, and with it comes a flurry of working dog competitions. These competitions include the FCI IPO World Championships in the Czech Republic (September), the WUSV World Championship in Philadelphia, PA (October), and two trials right here in Northern California: the Northwestern Regional Championship (September), and the USCA GSD IPO3 National Championship (November).
Northwestern Regional Championship
The 2013 Northwestern Regional IPO Championship will be held this weekend (September 28-29) in Ripon, CA.  This event displays the top working dogs and handlers in Northern California, Nevada, Utah, and Hawaii, and is a prerequisite for competing at the upcoming 2013 USCA GSD IPO3 National Championship.
Placer County Schutzhund Club, the club for which John is Training Director, will be fielding five dog/handler teams for this event:
We are very proud of our club members; they have worked hard to compete at the higher levels, and have spent endless hours training their dogs in tracking, obedience, and protection in order to prepare for this event. German Shepherd Watchdogs, LLC would like to wish them the best of luck as they compete under German Shepherd Schutzhund Club of Canada (GSSCC) Head Judge Doug Deacon, and United Schutzhund Clubs of America (USCA) Director of Judges Nathaniel Roque. We wish all competitors the best of luck; this will be a highly competitive event featuring many good dogs and excellent handlers, both seasoned veterans and new competitors alike. We know our group from Placer County Schutzhund Club is up to the challenge! Good luck, all!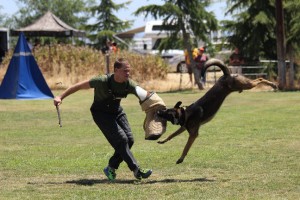 We are also very proud of our up-and-coming helper Weston Kester (pictured left), who was selected to be the IPO1/IPO2 helper at the Regional Championship. John and Weston have been working together closely for the past several months; Weston's athleticism, natural skill at reading dogs, diligence, work ethic, and genuine character make him an excellent candidate for helper work. We wish him all the best as he works dogs at this event.
Keep track of all the dog/handler teams on the NW Regionals Results page.
Social Share