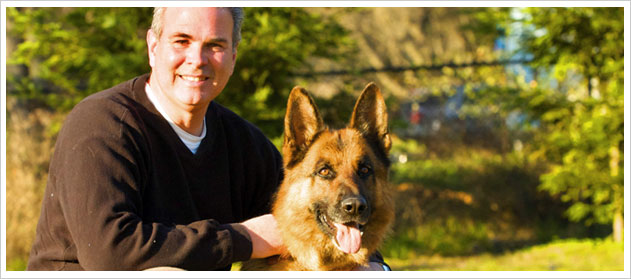 It has been about one month since our friend and GSW business partner Ron Kester passed away. His presence is dearly missed, but it makes our hearts happy to remember our dear friend.
Ron first entered the world of Schutzhund around 2005, when he showed up at Placer County Schutzhund Club (PCSC) with a show line German Shepherd Dog. Ron always loved dogs, particularly German Shepherds, and he threw himself into Schutzhund out of a love for the breed. It was an activity that he enjoyed greatly, as it gave him a chance to play with his dogs, train them, and work them to their full genetic potential. It was very easy to see Ron's joy when he was out there on the field with his German Shepherd Dog.
It was from Ron's passion for dogs that German Shepherd Watchdogs was born. His desire for a successful dog-related business was the impetus for creating GSW with John Riboni. Ron truly cared about the dogs, bringing GSW's newly imported dogs home from the airport and letting them adjust to life with his family. Whenever he was out and about on the town, he almost always had at least one or more German Shepherd Dogs in his truck with him! He was deeply happy to have a business that allowed him to play with German Shepherds all day long.
Ron was a familiar presence at PCSC, both during training and during club events. He was always smiling, always joyful, always friendly and concerned about others. He was ready and eager to lend a helping hand, often purposely choosing the jobs that kept him out of the limelight but served the club in a big way. For example, he would bring his big riding mower out to the club on his own, and mow the large field without telling anyone; members would show up to training to find a perfectly groomed field waiting for them. He served quietly, but in a big way. It was in his heart to serve others wherever he could.
Ron was a very caring and service-oriented individual. He was actively involved in his community and with his church. He had a particular heart for the youth of the community, serving with the Boy Scouts of America and also as a youth leader in his church for many years. He loved his children and his family very much, and was always very supportive of his children as they moved out on their own into the world. Ron also cared deeply about "the little guy", seeking out opportunities to give struggling young people the chance to use and develop their individual talents.
Ron was an honest and straightforward man; he is fondly remembered for his free, open, and truthful speeches about a variety of issues facing society. He had an infectious smile and a fabulously sarcastic sense of humor; we cannot help but smile when we remember Ron's light-hearted attitude, an attitude that remained even in the darkest of times. He was incredibly brave. Even when faced with a diagnosis of Stage 4 pancreatic cancer, Ron was brave, steady, determined, and peaceful. He cherished his time with his family, friends, and dogs, and continued to bring joy and laughter to those around him.
Ron left a profound and lasting impact on his friends, family, and community. He is fondly remembered, and is forever in our hearts.
Social Share