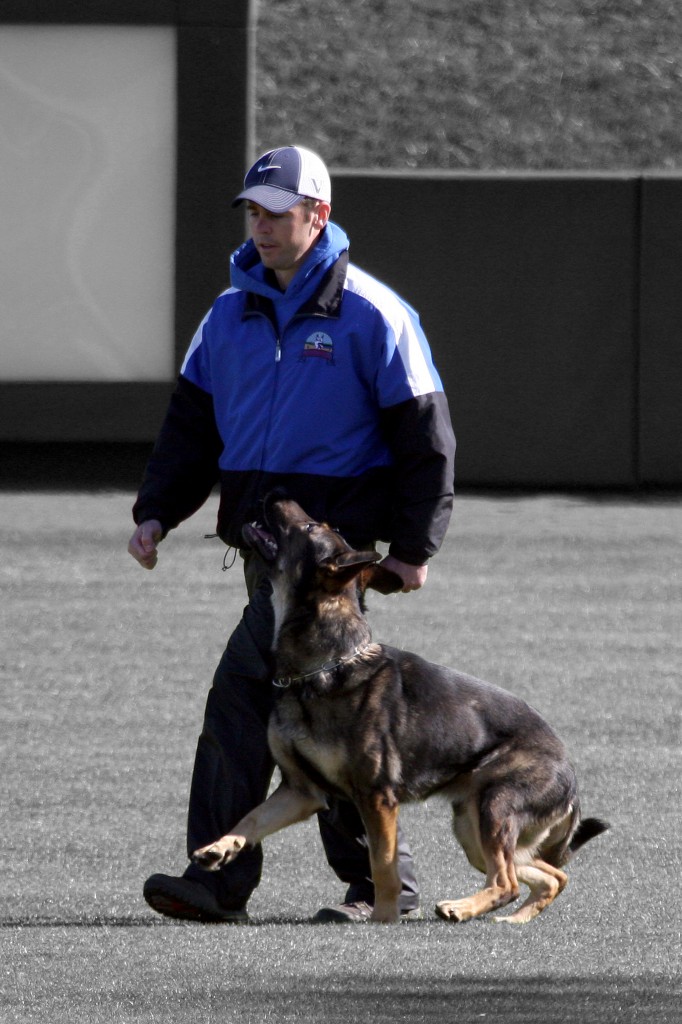 German Shepherd Watchdogs, LLC, would like to wish Tommy Gillies and his dog
Figo vom Fuchsgraben
the best of luck as they head to the
2013 WUSV World Championship
, held in Philadelphia, Pennsylvania on October 17-20th. This will be their second time representing Team USA at a WUSV event, having represented Team USA at the 2012 WUSV in Steyr, Austria; this is a great honor that reflects the hard work, dedication, and success that Tom and Figo have achieved as a dog/handler team.  
Tommy and Figo's journey began nearly five years ago. Tommy flew out to California to visit John Riboni and meet Figo, who was two years old at the time. Figo, now seven, has been Tommy's constant companion and competition partner. "I knew from the instant I met Figo that he was special," Tommy said. "Figo has great presence, personality, and temperament. His attitude is always positive. His temperament makes him easy to live with, travel with, and fun to be around."
Figo shows himself to be both a serious competitor and a fun-loving companion. His big head, strong and athletic build, power and intensity make him a force to be reckoned with on the field; but when he is off the field, he shows a sweet, goofy, and fun side to him as well. "He has the right drives for the sport, but also the right qualities for an awesome companion," said Tommy. "I genuinely enjoy spending time with him, on and off the training/competition field. Figo is truly the perfect fit for me and my training style."
Tommy and Figo have been a familiar pair in top-level competition for several years. In the past three years, they have competed in two USCA GSD IPO3 National Championships, two Working Dog Championships, two WUSV Qualifier trials, and of course in last year's international WUSV championship, with scores consistently at the SG level (SG = Very Good, 270 points or higher).
Tommy credits his and Figo's success to having excellent support from his training club (Mid Ohio Schutzhund Club), and to having a strong mentor in USCA President Jim Alloway. "Since joining Mid-Ohio Schutzhund in 2006, I have really excelled as a trainer, handler, helper, and competitor. This is mostly due to having a very supportive club," Tommy remarked. "In addition, Jim is an invaluable mentor, coach, training partner, helper, tracklayer, and friend."
Tommy also credits John for having a hand in their success. "John Riboni has been a great resource for me and the club. He has provided many high quality dogs over the years to Mid Ohio Schutzhund," Tommy said. "Thank you very much for allowing me the opportunity to own such a wonderful dog."
Tommy is looking forward to this year's World Championship Event, and to a strong performance from Figo. "I gave Figo some time off after the [WUSV] Qualification Trial, and we are now focusing on cleaning up the "little things". I think we both learned a lot last year and will be able to show a more typical "Figo Performance" this year," Tommy remarked. "That should leave us in good shape at the end of the trial." Tommy's focus is on improving from last year's performance at the 2012 WUSV, and based on his experiences at this last event, he feels more prepared for what the 2013 WUSV will bring.
We wish Tommy Gillies and the rest of the USA team (Jim Hill, Chris Meverden, Mike Diehl, Josh Markow, and Sean O'Kane) the best of luck in the 2013 WUSV Championship!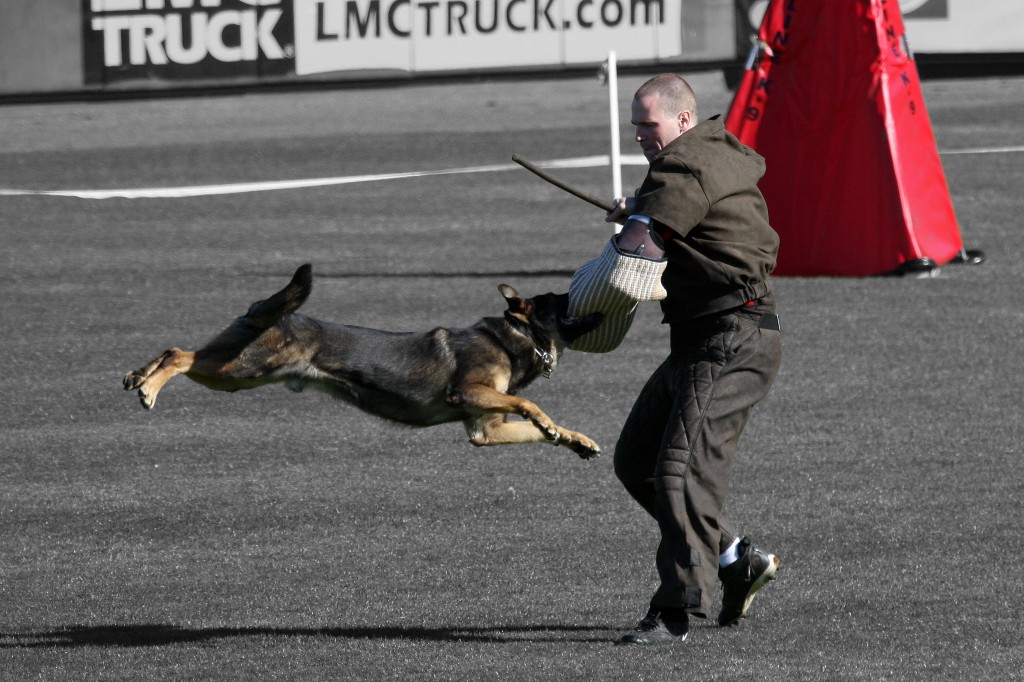 Figo on the long attack out of motion during the 2011 USCA National Championship
Social Share